Lara Schröder, the founder of Parisian showroom SCHRÖROOM, founded her own business after gaining years of experience across the industry. We sat down with the entrepreneur to find out more about what her career has been like so far, including Paris Fashion Week, the buying world and launching as a designer. If you're interested in learning more about how showrooms function, how to work with emerging designers or what you could be doing right now to get into the industry, read below for the expert insight! We asked - so you don't have to.
Firstly, what do you need to work in showroom? Do you need to have a degree, experience or a simply a passion for the industry?

Firstly, you need confidence and energy! It's also crucial to have an understanding of the sales process and what makes a garment commercially successful, which can be learned by observing or assisting in- house at a designers' sales office, or interning at a well-regarded showroom.
Generally speaking, a degree in any of the key fashion industry subjects (design, fashion marketing, fashion business etc) would all stand you in good stead of getting a great internship placement. Ultimately though, these are roles that are best learned on the job. It's always vital to have a passion and interest for the industry you're working in, so keeping up to date with new designers, the market and store launches etc are important.
Depending on the area you'd like to work in, you may need to keep really close to current trends and observe what the big fashion houses are doing, although SCHRÖROOM seeks to represent designers who generally go completely against the grain and offer up uniqueness untainted by industry trends.

What inspired you to found a showroom?
The creation of SCHRÖROOM evolved completely naturally. I had been working as a wholesale account manager for over 10 years and had recently gone freelance to offer my support to emerging designers and help guide them toward commercial success. I have always had a very critical eye and even when considering freelance projects I would only work with designers I truly saw unique potential in. My background working in-house at Eley Kishimoto had solidified my life-long obsession for print and colour and I naturally found myself gravitating toward designers with strong brand identities. I also saw great value in designers working either hands-on or producing with small, local manufacturers which, as we've moved forwards into a more conscious age, has become increasingly desirable for the buyers.
After working freelance with Clio Peppiatt, fellow designer Kitty Joseph approached me and asked if I would also manage her sales which was a fantastic opportunity as I was already hooked on her kaleidoscopic prints. Shortly after, a few others approached me and I meanwhile found myself hand- picking designers I'd like to work with who all fitted into my clear vision. It seemed to me that the wholesales market was lacking a fully curated showroom and from day one, the concept was to showcase designers working specifically within colour, print, pattern, embroidery, embellishment, surface decoration and textiles. I curate the showroom a little bit like a gallery or even fashion store and remain extremely selective about the designers I chose to represent.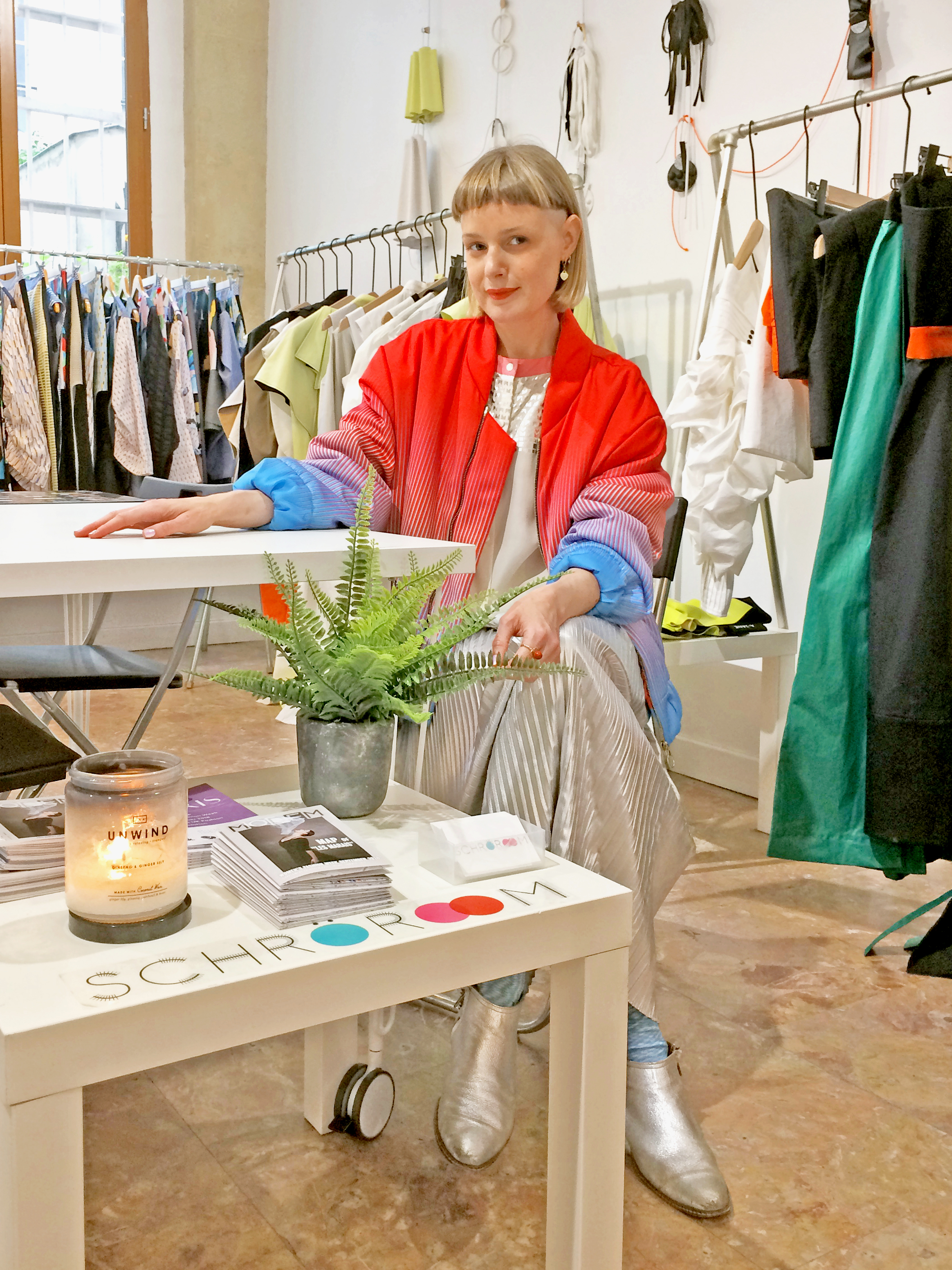 "It's literally a blood, sweat n' tears situation a lot of the time (although I rarely have energy to actually cry)!"
Lara Schröder, Founder of SCHRÖROOM
What are the benefits that come with running a showroom?
Ultimately, the main benefit for me is seeing a designer succeed and supporting them through every step of their journey. By working with a showroom such as SCHRÖROOM, a designer has direct access to buyer and press feedback which goes directly toward improving the collection for the following season.
My expertise also allows me to take any collection and immediately make suggestions as to where more commercial elements can be added in and what areas of the design need more focus and attention to improve visibility. Also, something important to remember is that sales isn't just about the designer making money: being positioned in the right kind of store can elevate the brand beyond anything they previously dreamed of and can bring great press along with it.

What is your role and what does it include day to day?

As SCHRÖROOM is my own business, the role is all encompassing. I scout and meet with potential designers where i'll evaluate the commercial potential of their work as well as check production ability and fabrication to ensure that collections will be ready for sales. I work extremely closely with each of my signed designers, meeting regularly to offer a bespoke service that involves everything from the stylistic direction of the collections, to setting price points, fabric selections and advice on how to present marketing materials such as Linesheets and Lookbooks.
I also help guide designers in the right direction as a brand, helping them with budgets, brand image and identifying areas of their business that need improvement. On the sales side of things, I am continually engaging in market research, following the launches of new stores and projects as well as keeping up to date and in contact with my buyers. Once we enter market season, I will be reaching out to relevant buyers to introduce them to the new collections.
I decide on key buyers to invite to LFW and Fashion Scout shows and work closely with the PR agencies to get the invitations out and set seating arrangements for the Fashion Week shows. In the months running up to Paris Fashion Week, where we present our showroom, I am busy fixing appointments and inviting my buyers to review the collections, helping promote the designers and aiding their selections. After PFW, I run our Online Showroom and chase store orders and deposits whilst helping advise the designers on how to manage their orders and start production. This is also the crucial moment for my Sales Reports which every designer I represent receives; it's an in-depth sales analysis with feedback and suggestions for next seasons' collections to help sales moving forwards.
I also scout the Paris showroom locations from season to season and do site visits to ensure we'll have the best spot as well as cast models and team assistants for the showroom. It's easy to see how I end up working 17 hours a day!
What appealed to you about the buying / showroom world?
I really enjoy working closely with incredibly creative designers as well as building relationships with my buyers and meeting new ones. It really feels great to introduce buyers to outstanding work and see them fall in-love with a brand, which can result in them becoming loyal long-term stockists. Facilitating success for a designer is really rewarding and I am always incredibly dedicated and invested in the designers I chose to work with, so I often feel like a proud 'mum'!


What is the purpose of showrooms? What variations can you find?
Simply put, a fashion showroom is the key link between designers and stores. It's vital to the success and survival of the designer! We facilitate the collections being sold in stores and this whole process is generally part of a hidden business that few people outside of it know about or understand. Buyers come to showrooms to place orders for collections 3-5 months in advance of when the pieces will actually be presented in the store, they buy the collections in at wholesale and a few months later, the designer delivers their order to the store and it goes on sale with a retail price. If a designer wants to be commercially successful it is imperative that they work on the wholesales format.
There are countless showrooms out there, all over the world. Some are incredibly high-octane and only manage sales for big names, whilst others are more niche. You can also find showrooms that work specifically with, say, Swimwear and Resort, or Jewellery, whilst others only do Denim and Casual. Some cater to incredibly commercial labels whilst others represent designers doing something unique or avant-garde. Sadly, quite a few showrooms out there have an open-doors policy to any designer who can pay up, which I find morally objectionable as these places often just offer a rail to present on without the management, guidance or dedicated sales support. When I launched SCHRÖROOM, I heard so many scare stories from emerging designers who had lost thousands of pounds to showrooms such as those and they'd not gained stockists or even a Sales Report in the process! I wouldn't be able to sleep at night if I wasn't doing my absolute best for each and every designer I represent and this dedication shows in the trust they choose to put in me.
What do you look for when hiring a graduate?
When looking to hire a graduate there will need to be some key elements that pull together to make the perfect candidate. Firstly, they need to be quietly confident individuals as well as intelligent and eloquent (- even if English is not the native language).
I also look for graciousness and politeness because in the showroom, we're regularly hosting appointments with some of the most well-regarded and important buyers on the planet and I wouldn't risk them being treated unprofessionally. So long as the candidate has those elements and they're willing to learn (even if it does entail fetching coffees at first) i'll feel sure I can teach them the ropes and know that they'll have a good understanding of what is expected of them.
Finally, trust is vital; by welcoming a graduate in to my business, I am essentially giving them a pretty good glimpse into the company itself and all the hard-earned contacts and established business I have worked for over 10 years to achieve. So trusting that an employee will be respectful of that is key.
Would you recommend starting your own business?

Actually 'no', and I know many fellow independent business owners who would all say the same thing. The main issue is that you never fully realise how much time, work and money you'll need to get things started and then continue putting in. It's literally a blood, sweat n' tears situation a lot of the time (although I rarely have energy to actually cry)! I regularly work 17 hour days and it's not a glamorous life, I never have time to go to fashion parties which is what some of my friends seem to think I do! I think any graduate daydreaming of having their own business should think first about getting great experience and education working for other people's businesses before later considering their own. You also need to offer something relevant and different to your market and always be one step ahead, or your business possibly won't succeed.
Do you have a top pro and a top con to running a showroom?
I think some of the best moments are during London Fashion Week and Fashion Scout, seeing my designers' catwalk shows and presentations and feeling that incredible buzz and excitement. I know how incredibly hard the designers work and the show often has been planned for months in advance through lack of sleep and production nightmares. I am always bursting with pride for my designers and there, front row, clapping and 'woo-ing' the loudest. Another 'pro' moment is when I land an amazing store order for a designer and know this is the start of something big for them, which is a mix of pride in my own work as well as theirs.
The con is that any time of day or night, 365 days of the year, I am on hand to help support my designers and their accounts and be developing the next season's plans all at once. So whether it be a designer in distress or a production issue, i'm always on the job! There's no calling in sick or taking a holiday, because you are the boss and most bosses like me are extremely dedicated and pretty hard on themselves. It's hard to switch off.
What advice would you give to someone who is looking to pursue a career in showroom, with little to no experience?

For anyone wanting to work in fashion showrooms, the best place to start is to get work experience or an internship shadowing the sales team in-house at a label or well-regarded showroom. Perhaps the first few seasons you'll just be fetching coffee for the buyers, but even if you overhear or get to observe the operations of the showroom, you'll be learning something. To be a sales account manager takes many years of hard work as you slowly build up relationships with key stores and learn your specific market inside out. You need to be confident and make friends easily but never a pushy 'sales person'. By seeing what sells and what doesn't over time will also give you key knowledge and understanding about commercial sales which you'll be able to apply in the future.
We hope that Lara's interview has given you insight into how to pursue a career in the buying and showroom sector of the fashion industry, including tips on how to get involved! Interested in a particular area of the fashion industry? Let us know in the comments and we'll bring you the insight, how to get into the job initially, what's it's really like and what benefits you can expect!
Words and interview by Annabel Waterhouse-Biggins